Review by Jason Zuidema (NAMMA/ICMA)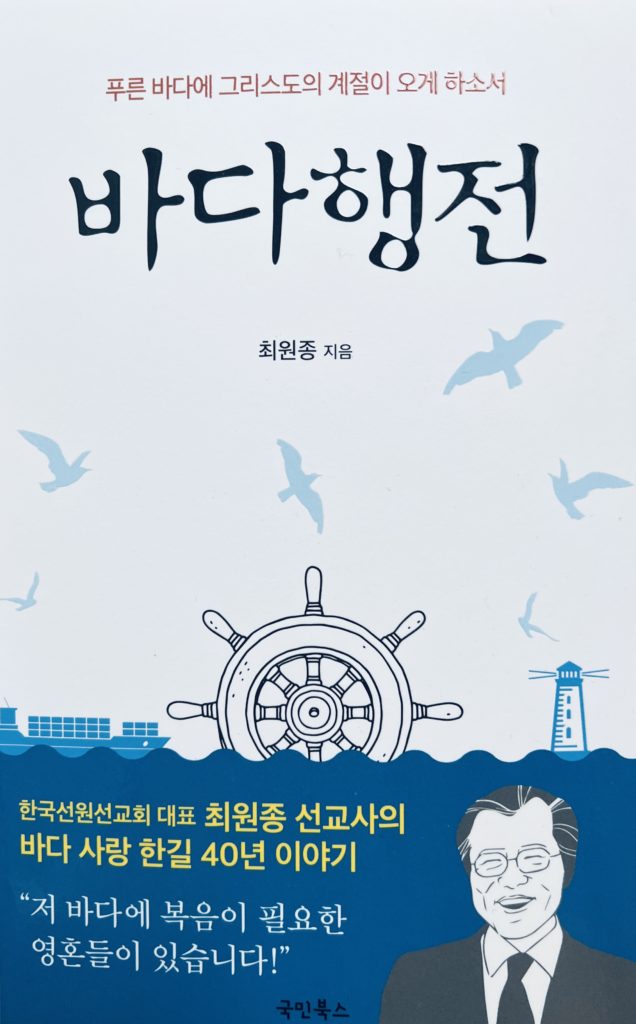 Wonjong Choi opens his autobiography fittingly with the words, "All my life, I have only thought of the sea, ships and seafarers." (6). Choi founded the Korean Seonwon (pn. 'sun-on') Mission in the mid-1970s, and became an inspiration for other Koreans to take seafarers' ministry into ports around the world and on board their ships.
Choi's book is informative and captures why seafarers' ministry was inspirational for a number of Korean pastors over the course of a generation. A review by Pastor Seong-eun Choi of Global Village Church, included in the book, captures the spirit in which this book was written: "If your faith has cooled down due to the coronavirus pandemic, please read this book Acts of the Sea and rekindle the fire of faith." Wonjong Choi recounts the joys and challenges of his life, but always in the optic of inspiring faith and recounting how God repeatedly sustained his life.
With that message of faith, the key frame to understand this book is joy in suffering. Choi's life's work in seafarers' ministry started in family tragedy, advanced in poverty, and, in the last decade, was accompanied by a series of life-threatening health issues. Yet, joy is found throughout. Choi's daily happiness was to serve seafarers. His vision for maritime ministry has been a focus on seafarers' discipleship, plus a daily call to sacrificial giving of time and resources to seafarers. Choi shares why seafarers' mission motivates him: "The sea is a huge wilderness for those who have to live on a ship while disconnected from the world for a certain period of time. Life in the wilderness is loneliness and hardship […] I crossed the gangway and reached out to the lonely, struggling and fearful, giving them the most precious thing I could give them so they could start fresh." (22)
Choi's desire to help the people of the sea started in tragedy. He was born in 1951 in a small fishing village on the remote island of Heuksan. His father, brother and brother-in-law all died on the job while fishing. Choi writes, "I loved the sea […] However, the sea was also an object of loss and suffering. The sea embraces us, but often swallows us. It is a calm but scary place like a mother's womb. I have experienced the fear of the sea from an early age. Because the sea has taken away my loved ones." (28)
Though the sea had taken so much, it was also the only life that seemed possible in Choi's part of Korea. Choi enrolled in Mokpo Maritime University to keep up the family profession, but, rather than making him a fisher, his experience there made him a "fisher of people". (26) During university, his Christian faith was stimulated, and he clearly felt the call to pastoral and missionary work. That call first worked itself out in becoming involved in student ministry among his fellow college students. This would prove a turning point for several reasons.
First, the student group's structure was not top-down, but more democratic. The leader was not to do everything, but put training into the hands of others to start small groups on their own. This idea of resourcing small groups to carry out the work would be taken directly into Choi's maritime ministry work of planting ship-board fellowships, later influenced also by the thinking of American port minister Ray Eckhoff and maritime missiologist Dr. Roald Kverndal.
Second, it was in the context of leading his university Christian fellowship that he was invited to attend Explo '74, a five-day evangelistic training event sponsored by Korea Campus Crusade for Christ (KCCC) that witnessed some 300,000 registrants (a full 1% of the Korean population at the time and 10% of its Christians). It was in the context of Explo '74 that Choi was convinced he ought to focus his work on Korean and international seafarers, and started praying to that end.
Third and most important, in the student ministry he met his wife, who was key to his future work. His wife Bok-soon 'Esther' Kim would share the work with him in equal measure – in a real sense this book is as much a biography of her as it is of him. In a chapter dedicated to Kim, Choi writes: "Fifty percent, or more, of seafarers' missions were done by my wife." (208)
Choi now had the vision for seafarers' ministry, but how and where to do it? Encouraged by Pastor Jun-Gon Kim, president of the student university fellowships association, he was encouraged to take worship to the seafarers, to go on board himself or send others to go on board to form small groups to worship together. Over the years, he helped plant more than 750 small groups and trained more than 1,200 ship missionaries. To get closer to more seafarers, he moved to the Port of Busan in 1982 and founded the Korea Seonwon Mission. "From the very beginning," Choi writes, the mission "set the highest goal of nurturing ship missionaries. One ship missionary, well-trained in the gospel and full of the spirit of love and service, worked to his heart's content in the limited space of the ship and reaped much fruit." (101)
Though evangelism was important, it was always accompanied by hospitality. Choi and his wife started to welcome seafarers into their home (the 'Attic') for shorter or longer periods from the beginning. This gave direct, daily contact with seafarers who might become ship missionaries with them. For most of the decade, "Christian students from Korea Maritime University came to our attic on weekends with simple workout clothes in their bags. On average, about 20 people came every week." (78) This was a burden borne by Kim: "We lived in an attic and a mission home and always lived with people. Rather than spending time alone with the couple and family, I had to stay together with an unspecified number of people. During all those long years, she fed them, clothed them, and made their beds." (208)
As the mission developed in Korea, Korean seafarers' missions began also to be formed around the world. In 1989, Choi visited 35 ports in Europe to encourage Korean pastors to take up the work. This also gave him a chance to visit the leaders of ICMA and other international maritime missions. Most of Choi's work was self-taught, focused on Korean-speaking crews. As ships became more multinational, he wanted more formal training in what other maritime ministries were doing. To that end, he took part in a several-month training at SCI in Port Newark, which gave him a wider perspective on the work. His focus on ship-board fellowships aligned closely with the work of Pastor Ray Eckhoff in Tacoma and the missiological work of Roald Kvenrndal. Choi writes that Eckhoff showed him "what the life of a missionary was like with his whole body. Although [Eckhoff] has left this earth now, the figure of a man who did everything with grace overflowing with love sticks in my mind." (139) Choi came to live in the United States to work alongside Eckhoff, paying particular attention to the Korean crewmembers visiting Tacoma. Like in Busan, he was able to purchase a house that had a few extra rooms to welcome guests, especially frequent visiting Korean missionaries.
Though more settled in his mission, the last decade of Choi's life saw extreme difficulty. In May 2012 he suffered a cerebral hemorrhage that almost killed him. Several years later, he experienced a heart attack, and more recently has needed a new kidney. All of these have taught him to trust the Lord more: "Each time, God saved me again." (23)
Choi's life's story is useful to consider for those in seafarers' ministry. His desire to be an "unknown evangelist" (41), with little pay and limited private life apart from seafarers is an example of dedication that might inspire others. There is a lot in his story to think about: what is the link between evangelism and hospitality? Are there any limits on the hospitality we might show? Choi recalls one story in Tacoma in which he brought a hamburger to a lonely Korean captain when the clock was past midnight. Though he was physically exhausted from an already-long day of ship visiting, he rejoiced that he was given a way by God to serve this seafarer.
Another key lesson is that Choi's ministry was never alone. His wife became a co-laborer in all his work. Choi's university fellowship colleagues became his maritime ministry colleagues, and the university fellowship network was a model for maritime ministry. Later in his career, the networks of NAMMA and ICMA would be helpful for the maturing of his work (70). In an implicit way, this book testifies to the denominational and interdenominational associations that help direct local energy for a wider impact.
Overall, I highly recommend this book, but with a significant caveat: it is in Korean, which I cannot read. I read the whole book using Google translate. No doubt, this means that some nuances and more poetic parts were not done justice. So, for those who can read Korean, the book might be even more interesting to catch the beauty and poetry of the language. This book might renew a fire of faith for some, and for others help them understand the vision and mission of their Korean evangelical colleagues.
Learn more about the book here: 2kimm.com.